The Art of Ramsey Robin Rye
Opens the gallery in a new window.
Welcome!
Just a little space where I can show some of my artwork on the web. Feel free to check out my gallery, and contact me for any of your artwork needs.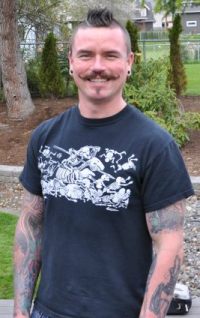 My Bio
I have been an artist my entire life. After placing in both state and national art competitions in high school, I went on to attend Cornish College of the fine and performing arts.
After school, I started my own mural business and was successful at that for six years. If you are a resident of Bellingham you may have seen some of my mural art on the ceiling at Casa Que Pasa or on the front of the building at the Horseshoe Café.
I have been tattooing since 2005 and love my job. The majority of my tattoos are custom drawn for the client. If you have an idea for a tattoo, I would be more than happy to make it come to life for you.
I work at Old School Tattoo in Belligham, WA, Monday through Wednesday from 4:30pm until 10:00pm, Saturdays from 6:30pm to 10:00pm, and Thursdays from 11am until 4:30pm (Thursdays by appointment only.) If you are interested in being tattooed by me, feel free to drop by the shop during any of the hours mentioned.
Contact Information
I can usually be found at:
Old School Tattoo
209 E. Holly Street
Bellingham, WA 98225
360.715.8261
during the hours listed in my bio.
Feel free to email me at [email protected].
For any technical issues with the website, please contact [email protected].